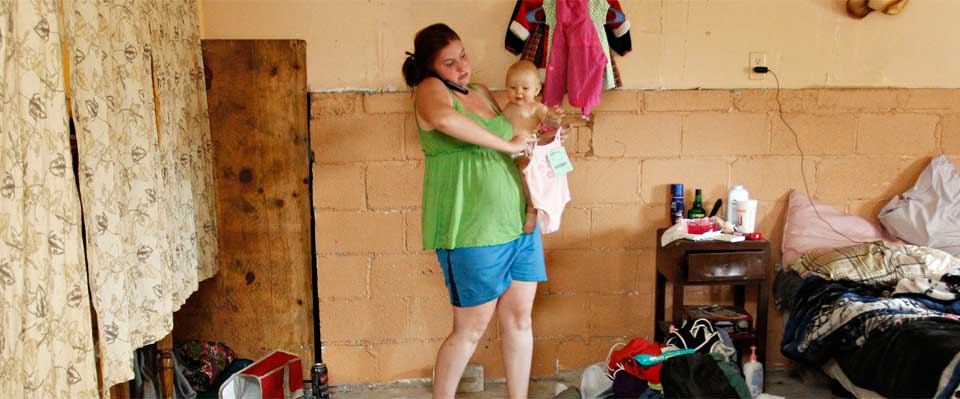 September 19, 2013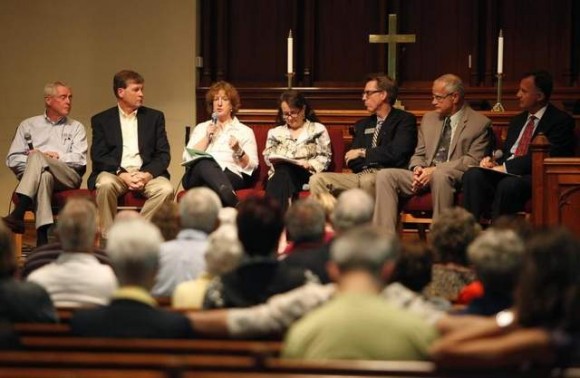 Springfield—Before Dana Carroll participated in a panel discussion about childhood poverty and hunger Wednesday evening, she spent the day trying to help a young family with a 2-week-old baby find a place to live.
But there were no options available.
Carroll, Springfield's Child Advocate, became emotional talking about the family with nowhere to go. She asked if anyone in the crowd gathered Wednesday for the "Feed Our Children, Fuel Our Future" panel at First and Calvary Presbyterian Church knew a landlord willing to provide a safe and affordable option.
"We must stand up for those who cannot stand up for themselves," she said.
Over the course of an hour, the seven-member panel outlined many of the critical issues facing Springfield children, including chronic hunger, deep-rooted poverty, child abuse, inadequate health care and the lack of access to quality housing, child care and early educational experiences.
But much of their focus — and Carroll's plea — was on finding local solutions to the problems.
"It starts with this community taking ownership of this issue and being committed to it long-term," said David Stoeffler, executive editor of the News-Leader, who was on the panel. "… The solution has got to come here, that's where it's got to be solved."
The event was organized in reaction to the News-Leader's Every Child public service journalism project started nearly two years ago. The project has been widely credited with raising awareness of the issues facing children, spotlighting possible solutions and helping to build momentum to take action.
In response, the Every Child Promise was formed to develop a blueprint for how to improve the lives and futures of local children by removing barriers, combating problems head-on and providing access to resources. More than 120 community volunteers are currently working on a long-range plan due by the end of the year.
"It's going to be what happens next," said Todd Parnell, who co-chairs the Every Child Promise with wife Betty Parnell, a former teacher and counselor.
Todd Parnell, a former banker and university president, said Springfield must measure the cost of not doing anything.
Andrew Chaney, senior pastor at First & Calvary, asked the panelists what role churches — and the faith community as a whole — can play in fighting hunger and poverty.
Mark Struckhoff, executive director of the Council of Churches of the Ozarks, said it's up to each person to learn about the problems and look for ways to help, right away and over time.
"It's important to somehow remember that churches are made up of individuals," he said. "It's not a church budget issue, it's about individual responsibility."
Brian Fogle, president and CEO, said for many in the faith community, it starts simply with prayer and love. He said it's also important to show generosity by giving one your time and resources to help others.
"One of the things we can do as Christians is not judge," said Fogle, a member of First and Calvary. "… As Christians, we need to love no matter the circumstances."
Both Morey Mechlin, executive director of Care to Learn, and Springfield Public Schools Superintendent Norm Ridder talked about the importance of building relationships and providing encouragement to children.
"That means every child you see you have to have hope and faith in their future," Ridder said. "When you see one, show love."
Several panelists talked about finding local solutions. They pointed to the gridlock and funding cuts from Jefferson City and Washington, D.C., as proof that the type of help that is needed locally will not come from elsewhere.
That approach resonated with Kent Schaller, a church member who attend the event.
"We see the problem, we see the need," he said. "I'm more comfortable giving my time and money here, where I know it is going to go for the good."
Christy Hyman, assistant director for the Upward Bound program at Missouri State University, works with low-income high school students.
She attended to gauge the interest of community leaders in solving the problems.
"I felt like there was an understanding and an awareness that not everyone has the same access to resources," she said. "And that makes me hopeful this community can find solutions."
Written by Claudette Riley, Springfield News-Leader